NEWS
New Features and The Earning Mechanics in Fortunes of Ventuna 2.0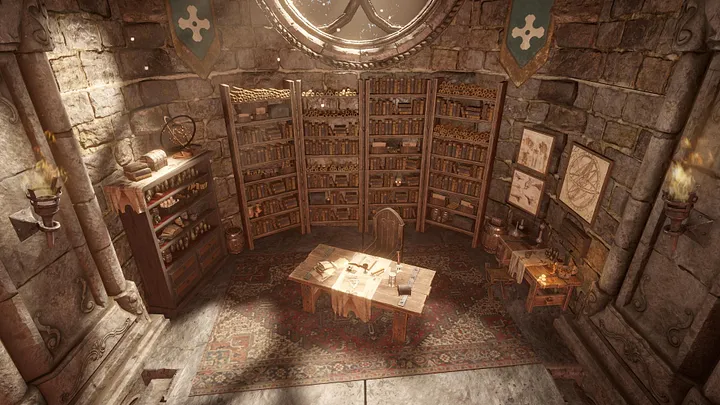 New Features
Limited Gas Fees
The gas fee will only be paid during NFT and HeC withdrawals to your own wallet and will provide a more flexible gameplay experience to the players by reducing the long waiting times of the interactions in the game.
MayinHara Tier 6 & 7 added
MayinHara is max T5 at the moment. Tier 6 and 7 will be added to the game and will have extra benefits for the MayinHara. The players will need to stake more HeC and upgrade their heroes to higher tiers to find higher rarity gems,chests and stat upgrades.
Send & Claim Collectively
When sending your MayinHara heroes on exploration or sieges, you will be able to send them in bulk and collect your rewards in bulk when they return. This feature will save you from long waiting times and from paying gas fees for each individual MayinHara and reward.
Revamped New User Interface
With FoV 2.0, the user interface will now be livelier, more animated, and user-friendly..
New Tier requirements
To upgrade MayinHara to Tier 6, the total stats must be 23.
To upgrade MayinHara to Tier 7, the total stats must be 25.
Tier 3 MayinHara with exploration level 1 can only go to Land 1
Tier 4 MayinHara with exploration level 2 can go to Land 1,2
Tier 5 Mayinhara with exploration level 3 can go to Land 1,2,3
Tier 6 Mayinhara with exploration level 5 can go to Land 1,2,3,4,5
Tier 7 Mayinhara with exploration level 7 can go to Land 1,2,3,4,5,6,7
You must meet both the tier and exploration level conditions to go to high level lands
You have to leave your comfort zone
Now, every time you advance to a higher tier land, the chance of getting ticket, siege, gold, and silver chest increases by 4%
The Earning Mechanics in FoV 2.0
Okay, this is where it gets a little mathematical, so I need you to be focused.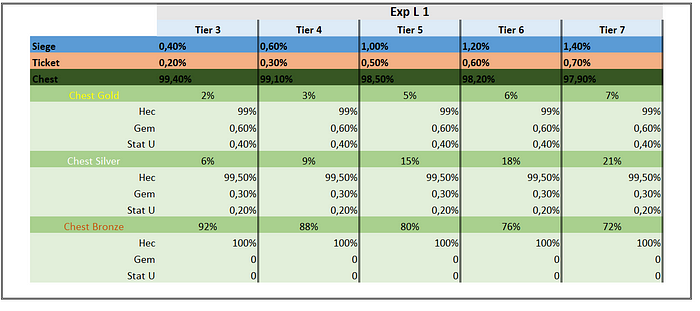 **These values (Table 1) are arranged according to a 12-hour exploration time.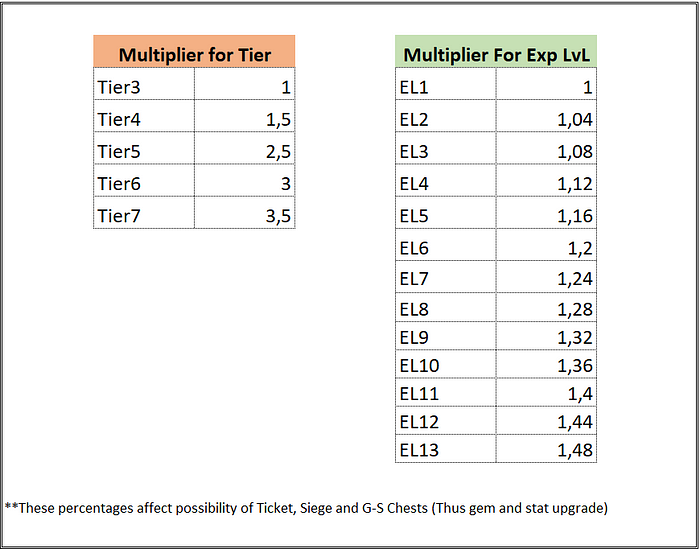 Here are some examples of Siege chance (Table 1)
0,40 x 1 = 0,40 (Tier 3)
0,40 x 1,5 = 0,60 (Tier 4)
0,40 x 2,5 = 1,00 (Tier 5)
0,40 x 3 = 1,20 (Tier 6)
0,40 x 3,5 = 1,40 (Tier 7)
Table 1 shows the siege chances for each tier. In fact, it takes the 'main' multiplier of Tier 3. This is exactly the same for all things in the game e.g. ticket, chests, etc. Therefore, we multiply the Tier 3 main chance with the 'Multiplier for Tier' table multipliers and come up with the numbers for other tiers. Also, the Tier 3 stats were written by hand as it was going to be used as the main multiplier. Are you following me so far?
Multiplier for Exploration Level
This table is used in addition to the other tables, so as the Exploration level increases, the chances will go higher as listed in this table.
For example: 0.40 x 2.5 = 1.00 (Tier 5. This represents the main value for the possibility of sieges and likewise as the exploration level increases. But this value is for Exploration at Level 1. Therefore, at Exploration level 10 the calculation is this: EL10: 1.00 x 1.36 = 1.36 is the chance of sieges at exploration level 10. Again, this is standardised for tickets, chests, etc.
I hope I haven't lost you so far! Keep up!
Chest HeC possibilities table (Table 2)

This table is for Exploration Level 1 and it shows the minimum and maximum amount of HeC we get from the chests. Therefore, the main HeC multiplier for Silver chests is 1.5 and for gold it is 2.00.
However, these values also use the multipliers from the 'multiplier for tier' table. So to make it clearer, for example, if we are calculating the silver chest HeC amount possibility for Tier 6, it goes like this –
0.5 (tier 3 as the main value) x 3 (Tier 6 multiplier) x 1.5 (because its a silver chest) = 2,25
Have you got that? Hope so. No falling asleep now!
Deposit for HeC Table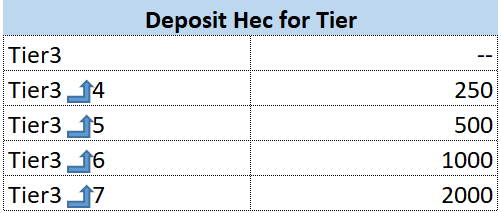 Right, let's talk about deposits now for the HeC table. Basically, the players must stake HeC to advance in tier levels. This table shows the total values needed to stake. For example,
The player must deposit 250 HeC to advance into Tier 4, then for Tier 5, the player must stake an additional 250 HeC to make the total amount staked as HeC 500.Easy peasy?
This table shows the total value that needs to be 'in the vault' so to speak. It doesn't show the deposit for each tier in addition to the deposit you made beforehand. To give an example to make it crystal clear, if you want to go from Tier 3 to Tier 7 directly, you have to deposit 2000 HeC in TOTAL.
If any of that wasn't clear, make yourself a strong coffee and start from the beginning again!
Withdrawal limits for HeC and NFTs

HEROES RISE UP! The Quest is Upon Us!…
Website | FoV | Whitepaper | Litepaper | Twitter | Telegram (GL) | Telegram (TR)| Telegram (Ann) | Medium | YouTube | Twitch | Instagram |
*Inventuna Games may, at any time, amend the pricing, availability, specifications, content, descriptions or features of the game and mobile application or any products sold through the Services. The inclusion of any products through the Services at a particular time does not imply or warrant that these products will be available at any other time. All such changes will be effective immediately upon posting of such new product prices to the Services.*